While CBS doesn't unveil its schedule until later this week, the word on the street is seeping out and series cancellations and pickups are coming fast and furious.
CBS has renewed The Unit for next season after not opting to resume production after the 100 day WGA strike earlier this year. The series has been dry for some time of new episodes, but the series will return even with above average, but not great retention ratings out of NCIS and skewing to an older demographic. Joining The Unit is traditional sitcom The New Adventures of Old Christine which earns a third season (is that enough to break the Seinfeld Curse?) and whereas the shortened second season was planned by CBS, season three will be a full 22 episodes.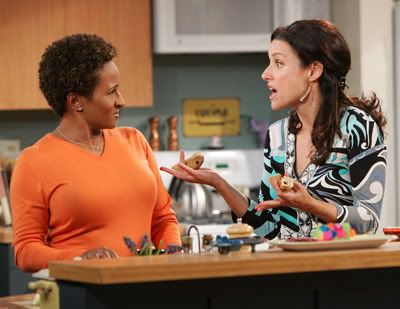 It was thought that ABC would pick up Christine should CBS pass (much like it picked up Scrubs from NBC), but it looks like CBS will use Christine either as a replacement series or to launch a new night of comedy. Also in the genre, How I Met Your Mother earns a fourth season as well.
Now the bad news, which will surely get a lot (well about 8 million actually) of people angry. CBS has canceled Moonlight the vampire-based show which formerly was housed on Friday nights just didn't have the ratings power to survive, even after being put into production again after the strike (not a lot of freshman series got this chance, see: Life, Chuck, Pushing Daisies, et al.)
Also on the chopping block is the James Woods-vehicle Shark whose ratings decline and demographic skewing were most likely its undoing.
CBS will show off its new schedule tomorrow for advertisers.